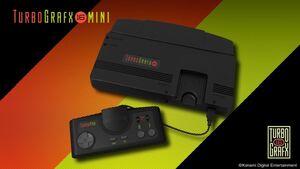 The TurboGrafx-16 Mini, also known as the PC Engine mini in Japan and PC Engine CoreGrafx mini in Europe, is a video game console released by Konami in 2020. It is modeled after NEC's original TurboGrafx-16/PC Engine console, emulating its hardware and coming bundled with 57 games in the international models and 58 games in the Japanese model. The console comes included with one USB controller and HDMI cables.
Game list
Edit
Aldynes
Alien Crush
Appare! Gateball
Cadash
Cho Aniki
Dragon Spirit
Fantasy Zone
Genpei Tōmaden
Moto Roader
Ninja Spirit
Psychosis
Space Harrier
Splatterhouse
Spriggan Mark 2: Re-Terraform Project
Super Momotarō Dentetsu II
Tengai Makyō II: Manji Maru (JP only)
Tokimeki Memorial (JP only)
Valkyrie no Densetsu
External links
Edit
Community content is available under
CC-BY-SA
unless otherwise noted.